5 Amazing Tokyo Restaurants You Must Visit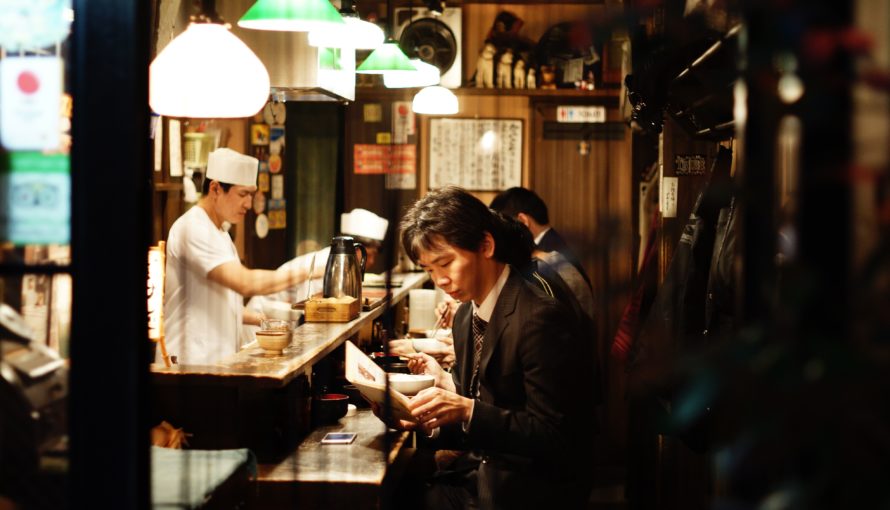 As anyone lucky enough to have lived in or visited Tokyo will agree, it has one of the most amazing dining scenes in the world.
Of the thousands upon thousands of restaurants in Tokyo, some stand out more than others through their sheer uniqueness. Rather than only providing delicious food, they actually manage to create an unforgettable environment and experience you'll want to enjoy again and again.
We've picked five of the most amazing restaurants you'll find in this wonderful city, including robots, ninjas, and more …
Alice's Fantasy Restaurant (Shinjuku)
Tokyo has its fair share of themed eateries, and Alice's Fantasy Restaurant is one of the most impressive.
Based on Lewis Carrol's immortal adventures, Alice's Fantasy Restaurant greets you with a variety of unique touches. As soon as you arrive, you'll walk through the book-shaped entrance and find yourself exploring a characterful setting brimming with wonder.
A heart-shaped table stands in the center of the restaurant, while fairytale touches bring magic to every aspect of the venue, including the servers' costumes.
Ninja Akasaka (Chiyoda)
What's a trip to Tokyo without ninjas?
Ninja Akasaka is a hugely-popular venue in Tokyo, with the likes of Lady Gaga and famed director Steven Spielberg visiting in the past. As soon as you step inside the subtle building, you're greeted by ninjas in full costume, who lead you on to a stunning hub known as 'Ninja Village'.
You'll get to eat ninja-themed meals while listening to the gentle trickling of the internal waterfall, and enjoy terrific displays performed by the dedicated staff.
Hoshizora no Nakae (Shinjuku)
A little different to the two themed restaurants above, Hoshizora no Nakae is a luxurious venue house in the 50th floor of a skyscraper. You'll have an astonishing view while you eat, and can choose from a delicious menu of authentic Japanese cuisine.
This boasts a wonderfully ambient atmosphere, exceptional service, and is the perfect place to enjoy a little calmness amid Tokyo's endless excitement.
Robot Restaurant (Shinjuku)
This well-known restaurant is an absolute must when you visit Tokyo. If you live in or around the city and have yet to visit, there's no excuse!
With colorful flashing lights, mirrors, sleek surfaces, lasers cutting through the air, and – of course – robots, Robot Restaurant provides an unforgettable experience, popping with life.
Robots take a huge range of forms, from sharks and pandas to dinosaurs, while energetic music gets your pulse pounding. The venue showcases numerous acts throughout the day and evening.
Our words simply can't do it justice.
The Capcom Bar (Shinjuku)
Gamers will recognize The Capcom Bar's name from many different classics.
Capcom is the brand behind such smash-hit video-game series as Street Fighter, Biohazard (Resident Evil in the West), Mega Man, and more. Visitors get to try out the latest games and eat a massive range of foods related to the company's catalog.
Staff also make an effort to keep the mood light, performing lines and moments from the various games (depending on what you order).
As you can see, Tokyo is paradise if you're looking to enjoy diverse Japanese cuisine in a variety of unique settings. At Kamikoto, we produce the finest Japanese kitchen knives used by professional chefs, across the country and the wider world.
Whenever you eat authentic Japanese cuisine, your dish may have been prepared with one of our blades!